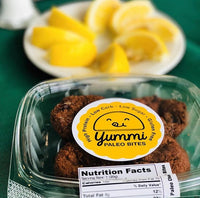 Passion for Healthy Food That Tastes Yummi!
Our Passion at Yummi Foods is to put a smile in your face with our delicious and nutritious food!! We are committed to spread happiness and health by creating thrust-worthy food products that contribute to improve the quality of life of our customers and makes them smile! With our healthy snack options, your days will be filled with extra smiles because with Yummi Foods eating healthy is also tasty!  
Our Yummies (how my 5 year old nephew calls them), are gluten free, low carb, low sugar, Diabetic, Keto & Paleo Friendly! We are truly making healthy food taste like junk food!
Let's start today living a healthier happier life!        Adriana Florez (Founder) 
Keto, Paleo, Diabetic Friendly and Yummi!
Muffins
Moist, soft, fluffy and full of flavor are the perfect way to start or end your day!  We strive to make the healthiest and "yummiest"  gluten free, low carb, low sugar, Diabetic, Keto & Paleo Friendly Muffins!  We only use ingredients that will give your body the right nutrition: Almond and coconut flours, coconut oil, monk fruit extract, erithrytol, eggs and lots of love, although sounds corny, is truly what we do! 
Dry Mixes
Nothing is better than freshly baked cookies, brownies, cakes or muffins! Or how about starting your morning with pancakes or waffles that will kickstart your day the healthiest and yummiest way possible? Try them we promise you will smile with every bite!  
Cookies
A fun new shape for cookies! Crunchy in the outside soft inside!  Made with good sources of fats almond and coconut flours and lots of love makes them seem that they were made in heaven. Our cookies will show you that there is an easy way to live a healthy life!  Gluten free, low carb, low sugar will satisfy your taste buds while helping you on achieving your health goals!  We love to see you smile, and we know than when you eat our yummies you won't be able to stop smiling!
what others are saying About Us
Mother-Daughter Team Turn Illness into Inspiration for "Yummi Foods"

https://www.baynews9.com/fl/

tampa/news/2019/04/18/mother

Adria Iraheta
Adriana Florez began Yummi Foods when her diabetic mother fell ill. Florez was in charge of finding recipes and snacks her mother could eat, and started designing keto and paleo diet friendly muffins, cookies and other sweet snacks—her mother's vices.

https://www.americaninno.com/tampabay/

roundups-tampabay/

8-exhibitors-that-impressed-us-at-synapse-summit/

Tampa Bay Inno
USF Entrepreneur Turns Family Dream Into 'Yummi' Business.

https://wusfnews.wusf.usf.edu/post/usf-entrepreneur-turns-family-dream-yummi-business

Mark Schreiner
Yummi Foods Makes Healthy Food Tasty with Paleo, Keto-Friendly Goods.

https://www.americaninno.com/tampabay/tampa-startups/yummi-foods-makes-healthy-food-tasty-with-paleo-keto-friendly-goods/

By Graham Colton
These bites are absolutely delicious. The perfect size for a quick treat, with all the taste, and none the guilt! 

Ann Humphrey
How a Tampa Bay Entrepreneur Saved Her Mother's Life One Bite at a Time. 

https://www.deborahholmen.com/blog/how-a-tampa-bay-entrepreneur-saved-her-mother-s-life-one-bite-at-a-time

Deborah Holmen.
Yummi Foods Gearing Up To Deliver Healthy, Gluten-Free Snacks and Breads Throughout Florida

https://www.813area.com/business/yummi-foods-gearing-up-to-deliver-healthy-gluten-free-snacks-and-breads-throughout-florida.html

813Area
The Best Keto Treats Out There!

Thank you for providing great KETO treat. Not many good ones out there. These are the best!

Brenden C.
So yummy and Keto Friendly!!! Review by Monica S.

I absolutely love these cookies! They are yummy and very Keto friendly. With my order I received several samples and I fell in love with the dark chocolate sample. I have been stalking the Facebook page and the website to see when I can order the dark chocolate. Please please please expand the ordering feature on your website so that I can order aRead more about review stating So yummy and Keto Friendly!!!

Monica S.
OUR STORY
PASSIONATE ABOUT HEALTH, FOOD & HELPING OTHERS
Our story is still being written and we hope you will join us in this journey!
Yummi Foods was born due to a mix of passion for food, health and love for my family and friends!  
Being born and raised in a Latino Family, was very interesting, specially in regards of flavors, but eventually the excess of carbs and not-so-healthy fats in our traditional food, led my mom to a really dark path of diabetes & high blood pressure, leading her to a kidney transplant.   In the journey to help her come back to health, I tried to make her understand how food can heal your body, but her very latino taste buds were clearly not happy with my blend of veggie recipes.   Reality hit me and I realized, that I need it to be creative and connect with my latino heritage and come up with not only healthy but tasty food! I started playing with my family's recipes replacing traditional ingredients for gluten free, low carbs, rich protein, good fats, natural sweeteners that don't spike glucose, but making sure they will still as "yummi" as my grandma's food.  
Our Cookies and Muffins will put a smile in your face! While supporting you on your health and fitness goals! Although they are very healthy: low sugar and gluten free, they are the Yummiest Cookies & Muffins you had ever tried!  We bake every single one of them with lots of love and the knowing that will bring health and happiness to your day!  Yummi Foods story began as my dream and after joining  the Student Innovation Incubator at USF it became a reality!  
Try our "yummies"  today!  They will certainly bring a smile to your face!
Location
Our Retailers
Abby's Health & Nutrition - Tampa, Fl
14374 N Dale Mabry Hwy, Tampa, FL 33618
D'Lites Emporium Tampa - Tampa, Fl
1906 S. Dale Mabry Hwy
Tampa, FL 33629
Phone: (813) 251-5222
Bulk Food Super Store - Ellenton, Fl
6234 US-301, Ellenton, FL 34222
D'Lites Shoppe - Lakewood Ranch Fl
8209 Natures Way #107, Lakewood Ranch, FL 34202